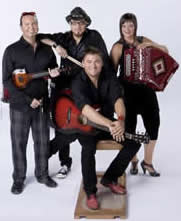 Students' Documentary Airs on WNMU-TV
Students in Dwight Brady's (CAPS) advanced field production class last winter produced a documentary on a French-Canadian band's visit to the area that will be broadcast on WNMU-TV. The premiere of Spellbound: Mauvais Sort in Marquette will be held at 7 p.m. Wednesday, Sept. 28, in Mead Auditorium. Admission is free. The program will be televised at 10 p.m. Friday, Sept. 30, and again at 8 p.m. Saturday, Oct. 1.
Mauvais Sort was part of the 2010-11 NMU International Performing Arts Series lineup. Brady said he was initially asked by Dan Truckey (Beaumier Center), series director, if he would be interested in shooting video footage of the concert.
"After viewing a live performance video online, I knew this would be a great project for the students," Brady said. "The band delivered an incredible show for the crowd and our cameras. Also, because Mauvais Sort was going to be in town for a week, we had the opportunity to do more than just set up and videotape a concert. We were able to get shots of them in the community and enjoying their stay in Marquette."
While the bulk of the program will be taken from the March 31 public performance, Brady said there will be several cutaways to interviews and clips of their workshops in local schools and other activities in the community.
"This was indeed the highlight of the semester for the students who worked on this one-hour documentary."