Mark your calendars!
The Upper Peninsula Teaching Conference (UPTLC) was May 24-25th.  In keeping with tradition, our Great Lakes theme was Navigating Change: New Directions for Superior Teaching. 
When: Wednesday, May 25, 2022
Where: Northern Michigan University
The next UPTLC will be hosted by Lake Superior State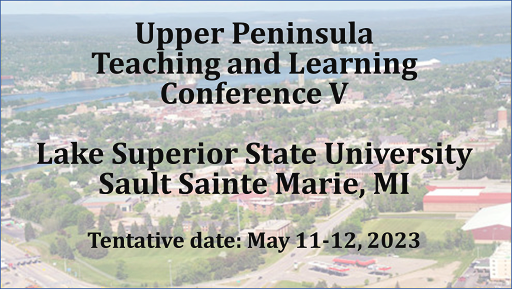 Schedule and Program
Tuesday night (pre-conference) social events:  
Register for Pre-Conference Activities  
Tuesday Afternoon (starts at 5:30pm - note new time to get checked in to hotels if you are checking in)
Each of the following options will include transportation to and from the event from the dorms - lot 24/see map (~5:30) or the Holiday Inn Lobby (~5:45). 
Option 1: Sugarloaf Hike & Dinner with Lisa and Terry
This option involves a hike up the beautiful Sugarloaf Mountain trail to the summit. Wear sturdy shoes and you might want to dress in layers. This trek requires a ½ mile walk (approximately 1 mile total) and climbing stairs but the view is worth it! After the hike, we will meet to eat dinner at Vangos restaurant.
Option 2: Downtown Walking Tour with Scott, Stacey, and Dan
This option starts with a meet up at Dig's Marquette Gastropub for a quick drink and/or appetizer, then a downtown tour of historic Marquette led by NMU historian extraordinaire Dan Truckey. This tour will focus on the downtown area of the old Queen City and will require walking about a ¼ mile on pavement. Wear comfortable shoes! After the tour, we will meet at the Vierling restaurant for dinner, followed by a short walk to the Ore Dock Brew Pub for a nightcap or two.
Wednesday Morning
Participants will be responsible for their own travel to McCarty's Cove for the following event. Contact Scott if you need a ride.
Take the Superior Plunge! (with Scott) – Very Optional!!!!
Meet at 6:00am Wednesday morning at McCarty's Cove to prove your courage and stamina. Dive into the frigid waters of Lake Superior and you will be wide awake for the rest of the day -Guaranteed! You will also get bragging rights and street cred with your peeps. Wim Hof will be proud.
Pre-conference Workshop
Pre-conference workshop led by Todd D. Zakrajsek on Tuesday, May 24th at 2:30-4:30
Finding your True North: Motivating and Engaging Students to Enhance Learning
What can we, as instructors, do to facilitate learning when we encounter students who seem uninterested and even apathetic toward course content and assignments? Part of the responsibility for learning belongs to students, but as faculty, we can find new ways to motivate, inspire, and maybe even cajole students to learn. In this workshop we will explore how instructors can make classroom learning, perhaps one of the most artificial learning settings, a more meaningful experience for students. I will use theories of learning and motivation as a basis for creating strategies to increase student engagement in course content and class sessions. We might even have a bit of fun in the process.
Plenary Session
The conference plenary session led by Todd Zakrajsek on Wednesday, May 25th form noon-1:30
A Beacon of Possibilities: Charting a Course for Post-Pandemic Teaching
Much has been lost during the COVID pandemic. It is important to recognize lives lost, challenges we all faced, and that this has been a challenging time for all of us. That said, over the past 18 months we have also learned a lot about ourselves and how we teach. In this session, we will take a look at what we learned during our shift to emergency remote teaching and, going forward, what can be kept, augmented, and even built upon to create even better educational experiences for our students.  
Todd D. Zakrajsek
Todd D. Zakrajsek, PHD, is an associate professor in the Department of Family Medicine at UNC - Chapel Hill and President of the International Teaching Learning Cooperative. Todd was a tenured associate professor of psychology and built faculty development efforts at three universities before joining UNC. At UNC, Todd provides resources for faculty on various topics related to teaching/learning, leadership, and scholarly activity. Todd has served on many educationally related boards and work groups, including The Journal of Excellence in College Teaching, International Journal for the Scholarship of Teaching and Learning, College Teaching, and Education in the Health Professions. Todd has consulted with organizations such as The American Council on Education (ACE), Lenovo Computer, Microsoft, and the Bill and Melinda Gates Foundation. He has delivered keynote addresses and campus workshops at over 300 conferences and university campuses in 48 states and 12 countries. Todd publishes widely on the topics of student learning, effective teaching, leadership, scholarly activity, and assessment. Todd's recently co-authored books include Teaching for Learning (2nd Ed)(2021); Advancing Online Teaching (2021); The New Science of Learning (2nd Ed) (2019); and Dynamic Lecturing (2017). Follow and connect with Todd on Twitter @toddzakrajsek and LinkedIn.
Image
Todd Z
Conference Tracks
Diversity, Equity, and Inclusion
Online Teaching & Learning
Instructional Vitality: Innovative & Engaging Ideas
Student Support, Retention, and Advising