Image
About the Center
The NMU-CEEE provides a variety of services, programs and resources including K-12 educator training programs, professional development workshops, graduate courses and more. Look for a our programs in this website and in our Facebook page.
The NMU-CEEE is the recipient of the 2012 Albert Beekhuis Center of Excellence Award from the National Council for Economic Education.
UPCOMING EVENTS
In-person workshop at NMU: Understanding Global Economic Issues. Oct 20, 2023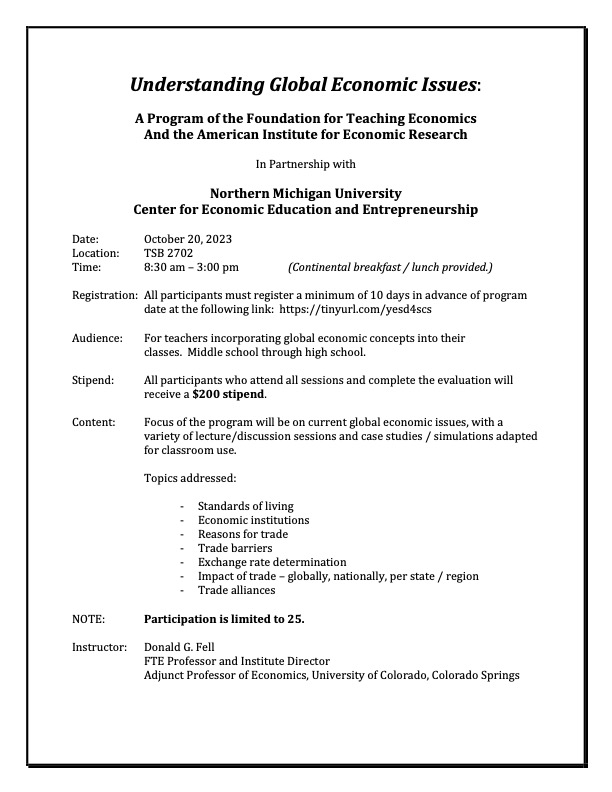 Websites for Economic Educators
Image
MOOC: Earn Digital Badges Prior to Arriving on NMU's Campus
Future students earn digital badges prior to arriving on NMU's campus. Each can be placed on your resume, college application, and social networking site. Learn more.
Image
Economic Education Award
Hugo Eyzaguirre and Tawni Ferrarini of NMU's economics faculty, along with J. Brian O'Roark of Robert Morris University, were honored by the Association of Private Enterprise Education (APEE). Their note, "Textbook Confessions: Government Failure" received The Journal of Private Enterprise Best Educational Note Award at the APEE international conference in Cancun, Mexico. It appeared in the fall 2014 edition of the journal.
Image
Your Wealth Lecture Series
The CEEE is the proud leader of the "Your Wealth" lecture series. Learn more about recent speakers at nmu.edu/yourwealth.
Image
High School Economics
Common Sense Economics for Life online course for high school teachers: economics and personal finance. After successful completion, earn a certificate and the course package (videos, quizzes, exams, exercises, interactive activities). This 15-week college-level course begins on Sept 14th. More here: CSE
Image
Student Competitions
In winter and spring: The UP Economics and Personal Challenges for HS students and the UP Economics Poster Contest for ES and MS students. Learn more here. And starting 2016 Personal Finance Challenge for HS students.