The Perfect Degree For Those With Previous College Credit
Are you looking to complete your bachelor's degree? Do you have a busy schedule that wouldn't allow for traditional, on-campus programs of study? If so, the online Applied Workplace Leadership degree could be the right option for you. 
The workplace leadership degree is designed for non-traditional students and returning adult learners with completed associate degrees in any field or previous college credit. The courses in the program will help you develop the skills that employers value in project leaders, team leaders and managers. The major emphasizes the use of critical thinking, ethical decision-making, goal-oriented communication, observational and quantitative data in decision-making and ways in which diversity can be leveraged for improved workplace climate and productivity.
A certificate in Applied Workplace Leadership is also available.
What You'll Learn
This major emphasizes applied learning in a workplace environment. You'll learn:
The art of sharing knowledge and ideas in a way that transmits a sense of purpose and enthusiasm to others.
How to foster ethical behavior, reasoning and critical thinking relative to workplace policies and expectations.
How to develop the resources necessary to assess performance goals around needs and expectations.
About implementing cultural and demographic diversity in relation to workplace leadership.
How to develop system solutions that improve the workplace environment.
 
---
Increase Your Earning Potential
On average, people with bachelor's degrees earn 66 percent more than those with a high school diploma and 34 percent more than those with an associate degree. 
Digital Credentials - Badges
Badges are digital assets used to communicate a learning achievement or credential. 
Badges are a standard to recognize and verify learning. A badge communicates three things without sacrificing verification or context:
- Who did something?
- What did they do?
- Who says they did it?
You can share your badges with anyone you'd like, wherever you'd like:
• LinkedIn
• Facebook
• Twitter
• Via email
• Embedded in a website
A viewer can click on your badge and will be able to view all the details of your achievement.
You can also share your complete badging profile to provide an employer with the full context of your abilities, represented by the various badges you've earned and manage through the badging platform. A click the following link for a complete Badge Earner Guide.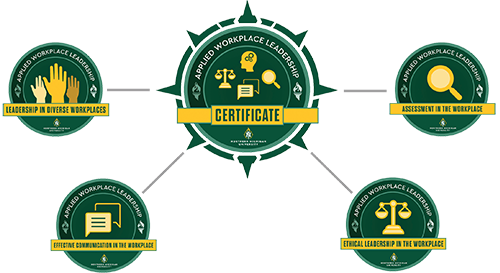 Click on the links below to explore each Applied Workplace Leadership badge:
Badge recipients must earn a C or higher in each course to be awarded each credential.
Bachelor's Degree Requirements
Total credits: 120
Credits in major: 32
Core Courses
20
LDR 100 Effective Communication in the Workplace
4
LDR 200 Ethical Leadership in the Workplace
4
LDR 220 Assessment in the Workplace
4
LDR 300 Leadership in Diverse Workplaces
4
LDR 400 Systems Thinking in Workplace Leadership
4
 
 
Completion of any associates degree
or approved coursework
12
(selected from options below or other courses with adviser approval)
 
TE 351 Humanity and Technology or
4
EC 101 Introduction to Economics
4
MA 101 Quantitative Literacy or
4
       MA 113 Finite Mathematics or 
4
       MA 109 Introduction to Probability and Statistics
4
SO 113 Social Problems or
4
PSY 100 Introduction to Psychological Science (meets lab requirement)
       [OR] PSY 101 Psychology as a Natural Science
4
Certificate Program Requirements
| | |
| --- | --- |
| Core Courses | 16 |
| LDR 100 Effective Communication in the Workplace | 4 |
| LDR 200 Ethical Leadership in the Workplace | 4 |
| LDR 220 Assessment in the Workplace | 4 |
| LDR 300 Leadership in Diverse Workplaces | 4 |
*This certificate is not financial aid eligible.
Frequently Asked Questions
How much is this degree going to cost me?
A transfer student with an associate degree will pay the upper division undergraduate tuition rate.  Online students also pay a $50 distance education fee per credit. It should cost you approximately $21,000 to complete this bachelor's degree. Current tuition rates can be found here.
I completed my associate degree at a school other than Northern. Will those credits transfer into this program?
Most likely. If you have a degree from another institution in Michigan, it will have to be stamped with the Michigan Transfer Agreement notice or reviewed by NMU's Registrar's Office to determine which courses meet our general education requirements. If you have a degree from a different state, it will also have to be reviewed by the Registrar's Office for the same reason.
I still have questions. Who should I contact?