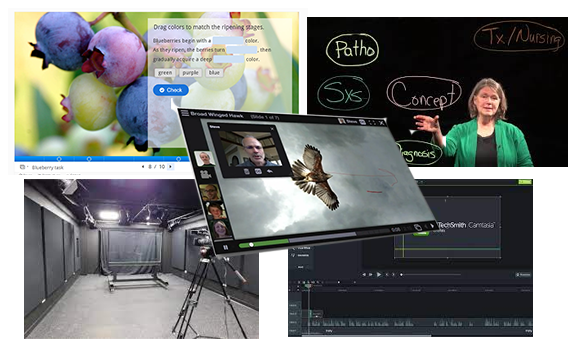 The Multimedia Academy will teach participants to design and develop various multimedia objects for their courses.  It will include several hands-on modules covering several tools and methods for creating instructional and assessment activities.  The Academy will offer HyFlex delivery options, so faculty have multiple options for participating!  Synchronous sessions will be held on December 15 and December 16 from 10am - 5pm.  Estimated total time for completing the Academy is between 15 and 20 hours. 
The Multimedia Academy is presented by the CTL and sponsored by the Division of Extended Learning and Community Engagement.  
Read on for more information!  Then Register!  
Note:  Registration is required for the Multimedia Academy.  
À la carte?
We've had a few people ask if they can attend just one or two modules of the Academy. While we conceived of the Academy as an entire experience and didn't develop a formal à la carte option, we will have room for a few "extra" people to participate in individual sessions. We still ask that you register.  Synchronous meeting times are as follows:
Creating Interactive Multimedia Exercises (10am-noon, Wednesday, December 15)
Instructional Video Planning: Tool Selection, Lighting, Recording Options (1pm-3pm, Wednesday, December 15)
Instructional Video Editing and Production (10am-noon, Thursday, December 16)
Creating Interactive VoiceThread Assignments (1pm-3pm, Thursday, December 16)
Participants who do not complete all requirements are not eligible for stipends.  
Learning Objectives
Upon completion of the Multimedia Academy, participants will be able to:
Set up appropriate environments (sound, lighting, etc.) for recording instructional videos
Select appropriate video recording tools
Utilize the lightboard and green screen in Studio 102.
Design and develop various interactive instructional and assessment activities using the H5P authoring tools
Design VoiceThread assignments that go beyond simple screen recording and commenting
Deliverables
To successfully complete the Academy, participants must design, create and share at least two multimedia activities. Possibilities include:
Advanced Voicethread Activity
Video tutorial or lecture that includes advanced production features
Complex H5P activity
Other activity ideas approved in advance by Multimedia Academy facilitators
Deliverable plans will be due on December 17 by 5:00pm. All deliverables must be submitted by January 7.
HyFlex Delivery Options
Participants can choose to participate through several HyFlex delivery options:
In-person (December 15 and 16 from 10am-5pm with optional lab time on December 17)
Synchronously online through Zoom video conferencing
Asynchronously online through EduCat 
Participants can choose the same participation mode throughout the Academy or opt for different modes for different modules.
 
Completion Stipend
Participants who successfully complete all facets of the Multimedia Academy will be awarded a $250 stipend from our sponsor, the Division of Extended Learning and Community Engagement.