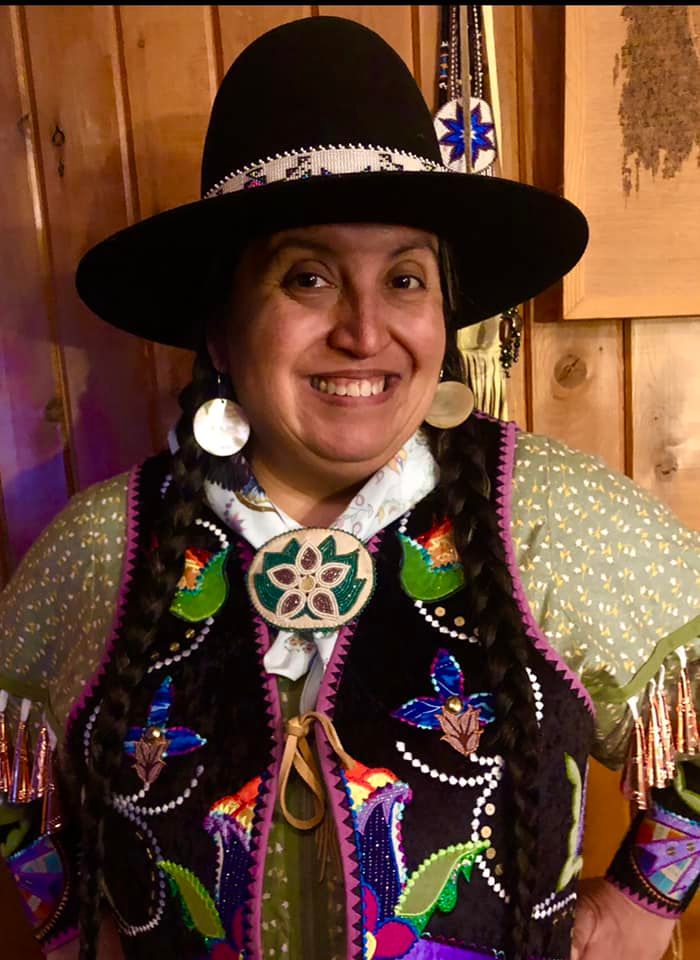 Dr. April Lindala has lived in Marquette since 1988 when she first attended Northern Michigan University as an undergraduate. She earned a B.S. degree in speech communication with a minor in Native American Studies in 1997. April earned a M.A. degree in English in 2003.  Her thesis was titled, "Voices I Color." In 2006 she obtained a Master of Fine Arts degree in English with a concentration in creative non-fiction writing. Her thesis was titled, "Relations." 
Lindala completed her Ph.D. in Rhetoric, Theory, and Culture from the Humanities Department at Michigan Technological University in Houghton, Michigan in August 2023. Her dissertation title is Ceremony and Storywork: Decolonizing strategies in contemporary indigenous documentary film. Her work engages nine Indigenous-directed documentaries drawing on an Indigenous Storywork lens (Archibald, 2008) and practices of neurodecolonization (Yellow Bird, 2016, 2019).
April has been a full-time employee at NMU since February 1993. Her first full-time position was at WNMU-TV13 as the community outreach specialist. April moved to the Center for Native American Studies as an admissions counselor in August 1998. From September 2000-September 2004, she was the assistant director of Diversity Student Services under the direction of (Coach) Bill Hill (this office has gone through multiple transitions; it was MERC and it is NOW known as SEEC). In January 2005, she began serving as the interim director of the Center for Native American Studies and was hired permanently in May 2007. In 2013, she earned rank of Associate Professor. After 13+ years, her final day as director of the Center for Native American Studies was June 30, 2019. In Fall of 2019, she earned rank of Full Professor. Lindala remains faithful to her students at NMU and is enjoying the opportunity for expand on NAS curriculum design as well as work to Indigenize academic assessment. 

April has had several poems published in various anthologies and publications.  She was the project director and assistant editor for the anthology, Voice on the Water: Great Lakes Native America Now published by NMU Press. The book also features two of her poems. Below is a brief list of other accomplishments.
---
Winter 2023 Courses
2023 Winter | Syllabus - NAS 315: History of Indian Boarding School Education (Hybrid)
2023 Winter | Syllabus - NAS 330: Native Cultures and the Dynamics of the Religious Experience
---
List of current research and creative projects 
Co-producer, writer, and talent of Anishinaabe Radio News, a radio program featuring significant news stories from Indian country in the US and Canada. This is a co production with Nicole Walton of WNMU-FM, Public Radio 90.
Ancestral Knowledge towards Sustainable Computing [NSF grant] (with colleagues from Puerto Rico, Washington D.C. and California)
Great Lakes Indigenous Art, Education and Health project [NEA grant]
---
Recent Publications
Lindala, A. (2017) For the Healing of All Women. And Here: 100 Years of Upper Peninsula Writing 1917-2017. Edited by Ronald Riekki. Michigan State University Press
Lindala, A. & Hasek, S. (2016) Co-author of book Chapter – "Hearing the Heartbeat: Environmental Cultural Values Found in the Lyrics of Native Songwriters" Indigenous Pop: Native American Music from Jazz to Hip Hop. The University of Arizona Press.
Federal Grants Received
Lindala, A. & Sherman, L. (July 2019) Lead Principal Investigator. National Endowment for the Arts. In collaboration with Keweenaw Bay Ojibwa Community College and the NMU School of Art and Design. Submitted an ArtWorks proposal for $96,344 to fund a Great Lakes Indigenous Art, Education, and Healing community arts project. GLIAEH Gallery of Works. Partial award received.
Miranda, J., Chapman, M., Sandoval, C. & Lindala, A. (June 2019) Lead Author. National Science Foundation. Part of a team of faculty representing four universities proposed approximately $75,000 each to support a three-year Ancestral Computing Towards Sustainability research project. Full award received.
Lindala, A. & Wyche, A. (2017) Lead Principal Investigator. Awarded Department of Justice-Office for Victims of Crime. OVC FY17 Development Future Victim Specialists for Indian Country. Funded $449,944 (full amount) for the Serving Native Survivors Circle project. Project # 2017 VR GX-K026.
Lindala, A., Cruz, J., & Reinhardt, M. (2016) Lead Principal Investigator. Awarded National Science Foundation (NSF) INCLUDES pilot program. Funded $299,941 (full amount) for the Indigenous Women Working within the Sciences project. Project # 1649082. First cohort of grantees.
Lindala, A. & Martin, G. (2012) Lead Principal Investigator. Awarded National Endowment for the Arts grant. Funded $22,000 (partial amount) for the Creating and Learning Arts in Native Settings project. Collaborative project with Lac Vieux Desert Band of Lake Superior Chippewa's Tribal Historic Preservation Office.
Tribal Grant Received
Lindala, A. & Sojourn, J. (May 2019) Lead Author. Native American Cultural Fund of the Nottawaseppi Band of Potawatomi. I led a team of faculty in the submission of a proposal for $168,771 to support the Anishinaabe Language Learning Community project. Funded at a reduced amount of 134,612.80.
---
Community Service
Great Lakes Recovery Advisory Council (served as secretary for part of the time)
American Indian Coordinating Council
MAPS Title VII Indian Education Parent Advisory Committee
Marquette Area Blues Society (founding President)
NMU Alumni Board
Women's Center of Marquette Board
Northern Options board
City of Marquette Arts & Culture committee (where she served as chair for two years)
When she finds personal time, April loves to travel to different communities to dance at pow wows in the upper Great Lakes region. She enjoys doing beadwork, cooking, watching films, listening to blues music, and spending time with her husband, Walt.
---
Contact April:
E-mail: alindala@nmu.edu
Phone: 906-227-1397 
Office: 112 Whitman Hall 
A.E. Lindala Curriculum Vitae [updated February 2023]
Sustainability & Native American Studies
April Lindala discusses the relationship between Native American Studies and accountability with the Earth.