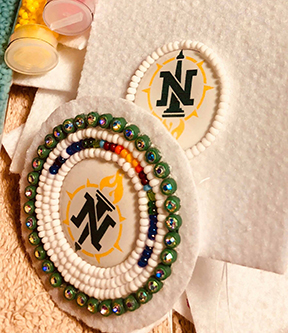 The Center for Native American Studies offers a holistic curriculum rooted in Native American themes that
challenge students to think critically and communicate effectively about Indigenous issues with emphasis on Great Lakes Indigenous perspectives,
stimulate further respectful inquiry about Indigenous people, and
provide active learning and service learning opportunities that strengthen student engagement, interaction, and reciprocity with Indigenous communities.
With plans of study rooted in Great Lakes Indigenous (Anishinaabe) perspectives, the CNAS at Northern Michigan University prepares students for futures in respectful tribal engagement, education and traditional arts, language learning, community and environmental work, research and academic pursuits within the discipline of Native American Studies ... the possibilities are endless!
Here we believe that "Minowaan'mewizing bmi'iyaang maampii akiing" ("The gift is in the journey"), where the study of Native American knowledge, culture, and history becomes a journey of lifelong learning and reciprocity with Indigenous communities here in Anishinaabe country and beyond.
Click here to learn more about the history of the Center for Native American Studies. From the creation of the Nishnawbe News in 1971 to the official inception of the Center of Native American Studies in 1996, there has been sustained growth in preserving Native American history on campus and throughout the nation.
---
NMU has...
the only baccalaureate degree in Native American Studies in the state of Michigan,
an associate degree in general university studies with a concentration in NAS,
a twenty-four credit interdisciplinary NAS minor,
a TEDNA-endorsed undergraduate certification in American Indian education,
a TEDNA-endorsed concentration of online courses towards a Master of Arts degree in Educational Administration: American Indian Education Administration and Supervision,
several courses that fulfill liberal studies | general education, and the world cultures graduation requirements,
a resource room filled with books, articles, films and more, and
an outdoor fire site for NAS classroom visits, and
the Native American Student Association, the Native American Language and Culture Club, and the Beading Club.
The Center also strives to keep you informed about items relevant to Native American Studies including language lessons. Listen to Public Radio 90 [WNMU-FM] Fridays for Anishinaabe Radio News, a weekly program with insights to Native American Studies and news from Indian Country.