Five Artists Selected for Rabbit Island Residency
Tuesday 24, 2015
MARQUETTE, Mich.— The Rabbit Island Residency has selected five artists from 200 international proposals to spend time this summer interacting with nature and expressing their experiences creatively. Rabbit Island is located east of the Keweenaw Peninsula on Lake Superior. The artists' work will be featured in an exhibition and related catalogue at the DeVos Art Museum at Northern Michigan University Sept. 25-Nov. 8.
The DeVos Art Museum has received a $16,300 grant from the Michigan Council for Arts and Cultural Affairs to support the 2015 Rabbit Island Residency show and catalogue. The MCACA previously awarded a similar grant for the 2014 installment of this yearly exhibition.
Artists selected for the Rabbit Island Residency will receive funding for travel, a materials stipend and access to a network of mainland facilities. They are:
Beau Carey: landscape painter from Albuquerque, N.M., and the founding artist of TANK Studios in Denver, Colo. His work is focused on his travels to challenging environments as he experiences and records a sense of place, often uncovering historical and contemporary issues through his interactions. He has painted in the Arctic Circle in Norway, the Rocky Mountain Arsenal National Wildlife Refuge and was the first wintertime resident artist in Denali National Park.
Eugene Birman and Scott Diel: Birman is a Latvian-born composer based in Oakland, Calif., who is pursuing his doctorate in musical composition from Oxford University. Diel is an American-born freelance writer based in Tallin, Estonia. The two have previously collaborated on several critically acclaimed operas. Their work is a result of their desire to engage a wider audience by stepping away from the formal opera genre and intertwining classical music and contemporary issues. A performance of their residency work by the Helsinki Chamber Choir is planned for fall 2016, in partnership with the NMU Northern Nights concert series.
Josefina Muńoz: multi-disciplinary artist from Santiago, Chile. She often works nomadically, creating pieces in and about environments she encounters. Her projects focus on material, architecture, location and culture coming together to answer questions of global concern. Her most recent research project 'Is_Land' will take her to Rabbit Island, along with places like Scotland, Chiloĕ and Tristan da Cunha, the most remote settled island in the world. Muńoz will create a critical body of work influenced by numerous manifestations of the island concept such as space, culture and metaphor.
Noam Enbar: composer and performer from Tel Aviv, Israel. He is a part of the anti-establishment band, Habiluim, which has become one of the main radical voices in the Israeli music scene. His many musical projects, choral-theatrical pieces and inventive political works have been performed at festivals, theaters and museums in Israel and across Europe. Enbar plans to place himself in the solitude of Rabbit Island's wilderness and compose a songbook that spotlights the intersection of the political and spiritual within society. The premiere performance of the songbook will be sung by a choir of Marquette and NMU community members at the exhibition reception in September.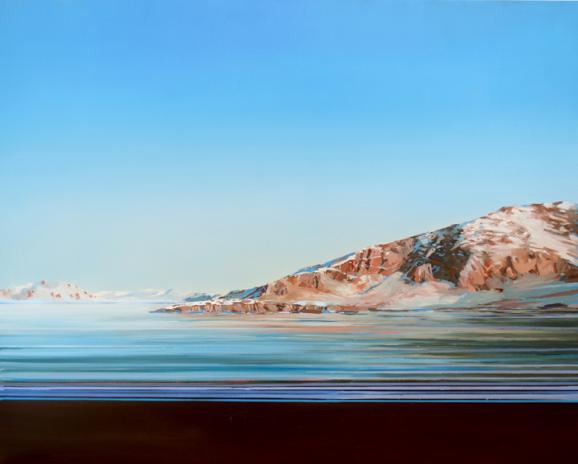 Beau Carey, Fata Morgana, Oil on Canvas, 2012