NMU Student, Alumnus Complete Field Work in Alaska
Monday 12, 2015
Clayton Queen, a Northern Michigan University environmental science major from Cedar, recently completed grant-funded field work on Alaska's North Slope as part of the international Circumpolar Active Layer Monitoring (CALM) IV program. He was the only undergraduate student on the team and worked alongside NMU alumnus Frederick "Fritz" Nelson, one of the researchers who established the program more than two decades ago.
There are hundreds of data-logging sites in CALM's global network that help to discern climate impacts on both permafrost—perennially frozen subsoil—and the active layer above it that freezes and thaws seasonally. Degradation of permafrost caused by climate fluctuations or urbanization can accelerate global warming and wreak havoc on infrastructure. The team in Alaska traveled to Prudhoe Bay, Barrow, Toolik Lake in the foothills of the Brooks Range, and Nome.
"The majority of our work this summer involved inserting probes into the ground to measure the thickness of the active layer every 100 meters on a marked grid and servicing data loggers to make sure they operate correctly," said Queen. "Climate changes have a significant impact on all ecosystems, but they are more pronounced in the Arctic, and the data don't go back that far. But studying it over a long-term basis is important to mitigate problems. That's why the CALM program started—to build up that database and understand what's happening in the Arctic and why.
"I've tried to do other field-based work, but nothing can compare with being involved in a global monitoring project. I definitely learned a lot more being out in the field, applying techniques and learning about the scientific process as it unfolded, having to deal with unexpected issues that came up. The EEGS department prepared me well."
Nelson said the Klondike Gold Rush in the Yukon and Alaska territories provided the first exposure to permafrost in North America. Miners injected steam to break up frozen sediments and learned the hard way that artificially induced thaw can have a destructive impact on buildings. Buildings engineered by mid-latitude standards, with potbellied stoves and non-insulated board flooring, allowed heat to penetrate into the ground. The result was melting of subsurface ice and differential settling of the buildings
During the early part of WWII, Nelson said engineers constructing major highways in Alaska and northwestern Canada stripped the soil down to the top of the ice-rich permafrost. Some stretches of road later subsided, making them impassable.
"Ice loses 10 percent of its volume when it melts," said Nelson. "The reduction in volume that accompanies the melting can compromise the structural integrity of anything built at surface level. If engineering is not done with permafrost in mind, it can lead to all kinds of problems with buildings, roads and pipelines. Thawing permafrost is a serious issue, but it develops gradually. A lot of problems can be solved through regulation, adequate land-use planning, and rational decisions by developers."
CALM is a global-change monitoring program with more than 200 permafrost observatories distributed over both polar regions and several midlatitude mountain ranges. The U.S. portion of the CALM program involves collaboration between researchers at NMU, George Washington University and the University of Montana. Nelson currently serves as a research associate through NMU's Department of Earth, Environmental, and Geographical Sciences. CALM IV is funded by a five-year, $1.2 million grant from the National Science Foundation that supports field operations in Alaska and Russia, as well as data management and dissemination.
"This project places NMU within the global conversation about permafrost research and climate-change impacts," Nelson said.
Queen in front of a helicopter, used to transport the team to remote areas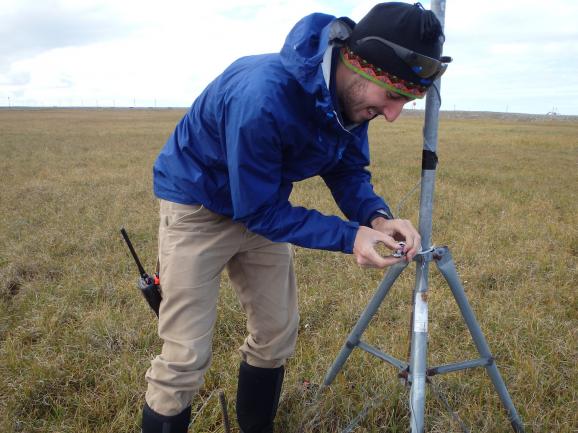 Queen replacing batteries on a data logger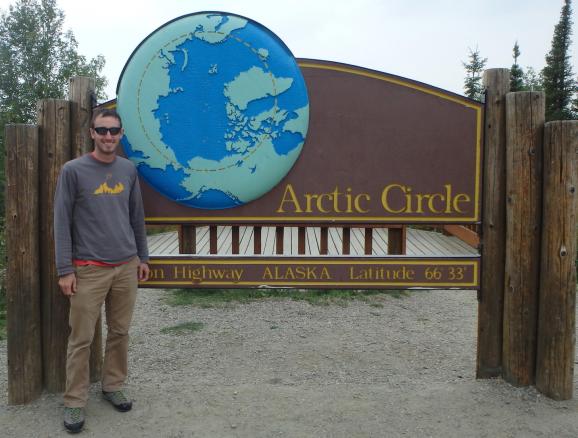 Queen by Arctic Circle marker