Sustainability Matters
At NMUGS&R, we strive to do our part to mitigate negative impact on the environment. That's why you won't see plastic promotional items from our College. We also will use, whenever possible, ethically sourced and sustainably made items as promotional giveaways. Finally, instead of spending money and resources that could be used to support students, we refrain from printing materials that might not get used or immediately thrown away. Instead, we offer easy ways to connect with digital information. This is one of the ways we try to emulate the cultural practices of our Native American neighbors: by thinking about how our actions will affect those who are seven generations after us. 
Inspiration
As a College, NMUGS&R takes inspiration from the cultures and surroundings that make us who we are. This impact can be seen through our refreshed visual identity and approach to learning, with a focus on space for academic and personal growth.
NMU is located on the ancestral homelands of the Anishinaabe Three Fires Confederacy. Our program pays respect to the Anishinaabe people by embracing the imagery, artistry, and ethos of the culture. Inspiration is also taken from the Finnish concept of "SISU" and Danish/Norwegian concept of "Hygge" as well as the natural beauty of the Upper Peninsula.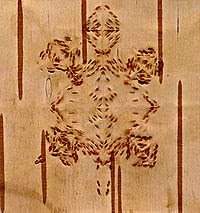 Our marketing materials were created by C-90 in partnership with Northern Michigan University Marketing and Communications. This process was completed with input from NMU's Center for Native American Studies as well as University faculty, staff, and students.
Our graphic designer partners were inspired by the beauty of Ojibwe birch bark biting art. The representation of artwork created by the original inhabitants of this area is important in our visualization of four themes that are important to us: Sisu, Hygga, cultural tenets of the Ojibwe, and the Upper Peninsula landscape. By identifying these themes in our visual representation, we hope to draw on their strength as we strive to provide quality graduate programing and research opportunities in an accessible and ethical manner. 
Source: http://en.m.wikipedia.org/wiki/Birchbark_biting
Image
Hygge
Hygge (pronounced hoog-uh) is a Danish and Norwegian word for a mood of coziness and comfortable conviviality with feelings of wellness and contentment. Hygge perfectly encapsulates the mood of being in the Upper Peninsula and studying at Northern Michigan University:  it just feels good.
Image
Sisu
Sisu is described as stoic determination, tenacity of purpose, grit, and resilience, typically related to harsh, cold climates. The Finnish created this concept to describe their way of life. Thanks to the impact of the Finnish people on the Upper Peninsula, Yoopers have adopted this as their own. 
Image
Ojibwe
Northern Michigan University is located on the ancestral homelands of the Anishinaabe Three Fires Confederacy. Gichi-namebini Ziibing is the traditional name of Marquette. NMUGS&R visual identity is respectfully inspired by the Ojibwe, in particular the indigenous art form of creating beautiful symmetrical patterns through birch bark biting.
Image
Upper Peninsula
The natural setting of Michigan's Upper Peninsula is a never-ending source of inspiration for many. Our rural campus and surrounding nature are undeniably linked to our unique educational experience, giving ample room for growth on both an academic and personal level.